ABOUT
SLOGAN
BRING THE PASSION OF
SPORTS INTO YOUR BRAND
Sports are supported not only by fans but also by sponsor companies.The rights that sponsor companies can obtain in exchange for providing money, products, and services to sports associations are collectively referred to as "sponsorship". In addition to the attractiveness of sport itself, the source of its value lies in the "passion" that fans generate.
As a partner of sponsor companies, we would like to propose the activation of the sponsorship with more than 90 years of knowledge and experience from sports sponsorships around the world, to help you build better relationships with sponsor companies, sports organizations, and fans. We can also help our sponsor companies to have a fan's "passion" on their side.
WHO WE ARE
Develop businesses in various fields that support sports, engaging primarily in the sponsorship business
Sports are made up of sports organizations, fans and sponsors. As each of them is strongly connected and the three become one, sports can be further developed and the fans and sponsors involved can enjoy great value.Taihei Group aims to maximize the value of each business by developing its business in each region, centered on sponsored business, and promoting a stronger integration of the three.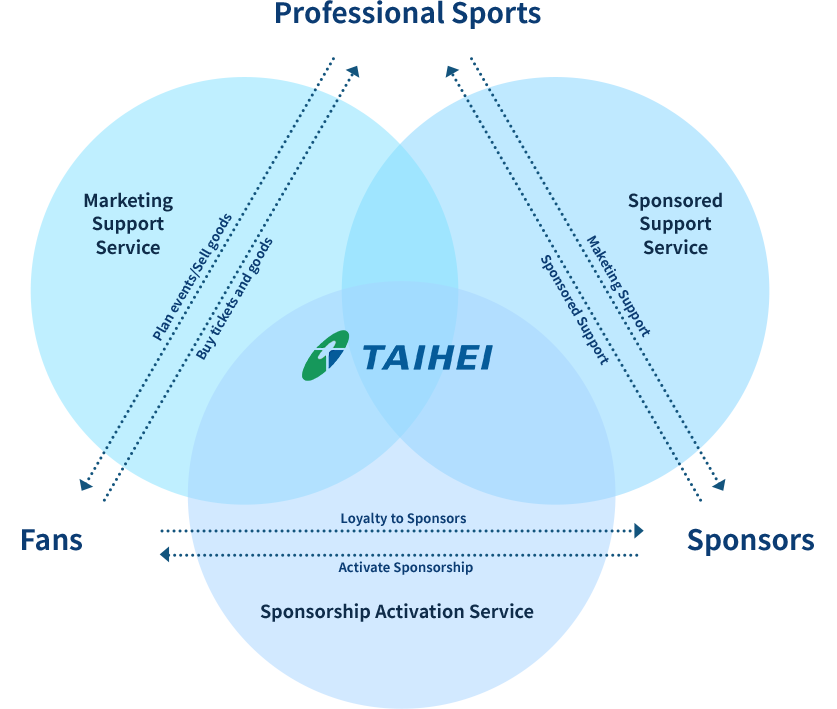 COMPANY
Company Name

TAIHEI ADVERTISING CO.,LTD.
TAIHEI CO.,LTD.
TOKYO TAIHEI ADVERTISING CO.,LTD.
TAIHEI INC.
TAIHEI YOKOHAMA CO.,LTD.

Office Location

AD TAIHEI BUILDING, 5-9-15, Shimbashi, Minato, Tokyo, 105-0004, Japan
GoogleMaps

Contact

General Affairs Department(8F)
TEL.03-5404-7166 FAX.03-5404-7167
Sales Department(7F)
TEL.03-5404-7164 FAX.03-5404-7165

President/CEO

Chief Executive Officer Ichiro Aso

Capital

10 million yen each

Revenue

5.9 billion yen (FY2019 group total)
ACCESS MAP
AD TAIHEI BUILDING, 5-9-15, Shimbashi, Minato, Tokyo, 105-0004, Japan
General Affairs Department(8F)
TEL.03-5404-7166 FAX.03-5404-7167
Sales Department(7F)
TEL.03-5404-7164 FAX.03-5404-7165